Upcoming and recent classes
Elliott is involved in education, training, and outreach throughout the Puget Sound region. Programs are usually sponsored by resource agencies and not-for-profit organization for landowners, resource professionals, land managers, and land development practitioners.
Topics include forestry management, low-impact pre-development practices, shoreline and steep-slope restoration, bio-structural stormwater and erosion control, view enhancement, use of native plants in the Puget Sound landscape, and related subjects.
Greenbelt Consulting also designs and facilitates community-based educational programs as well as conducting field trips for homeowners and condominium associations, neighborhood groups, and other private entities.
Customized, community-specific education and outreach can help a community understand the cumulative effects of development and improve area-wide management practices, reducing stormwater, erosion, and landslide impacts on fragile shoreline areas.
Below are upcoming and recent classes: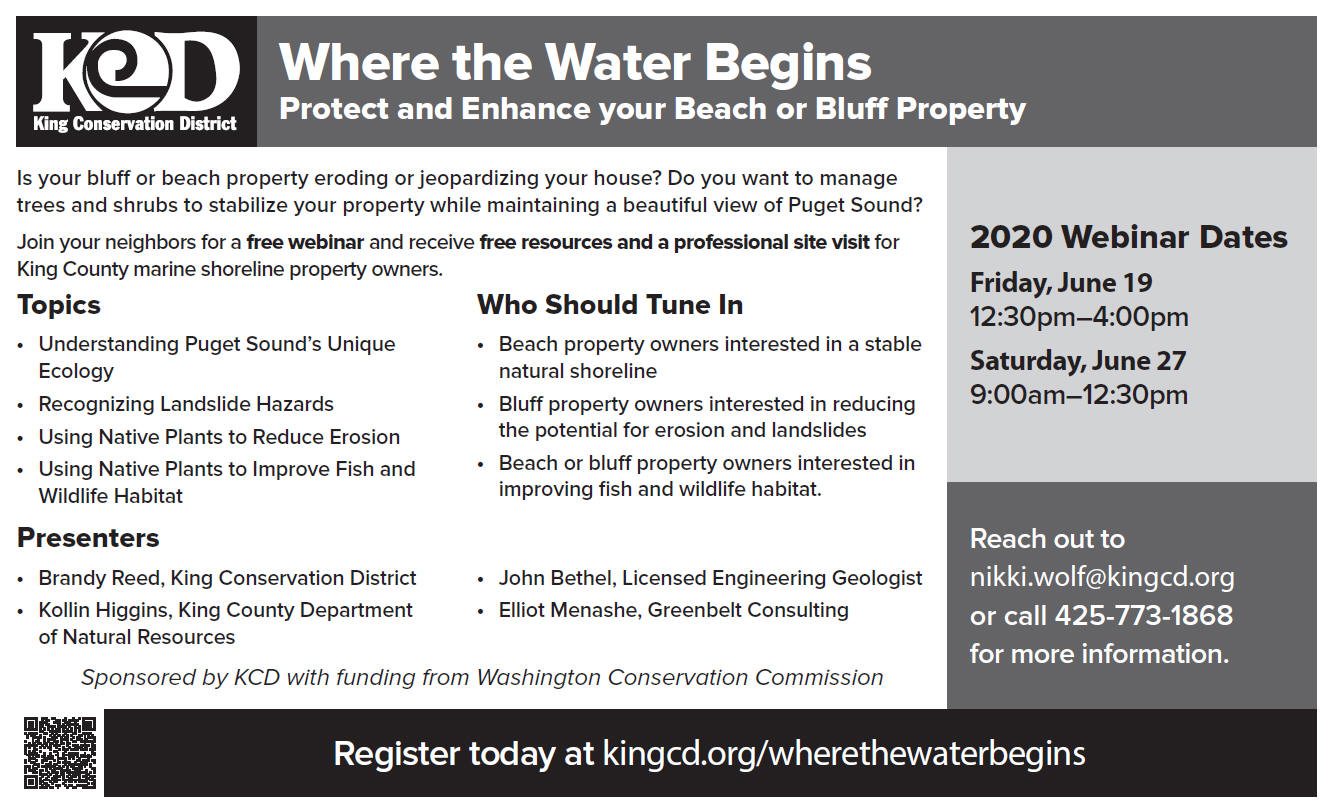 Postponed Until Further Notice:
Offered by The Association of Professional Landscape Designers, Washinton Chapter
Date: Thursday, March 26 - 1:00 - 5:00pm
Venue: The Mountaineers Seattle Program Center - Goodman A Room
7700 Sand Point Way NE Seattle, WA 98115
Join us to further explore the common and heavily regulated Environmentally Critical Areas in the Pacific Northwest landscape. Part II focuses on steep slopes and their relationship to riparian areas, wetlands and shorelines.
Featured Speakers:
Elliott Menashe, Environmental Consultant
Greenbelt Consulting
Elliott will discuss the history and current forces impacting 'Landscapes on the Edge', landscape design considerations, and share a range of indicators for assessment and evaluation of these landscapes.
Doug Gresham, Wetland Specialist
Washington Department of Ecology
Doug will discuss wetlands, shorelines and riparian areas from a regulatory perspective.
APLD, WSNLA CEUs pending.
Members $90; Non-members $125
Snacks and beverages will be served
Event Contact: sarah@svslandscapedesign.com
---
Topics:
Understanding the Ecology of Marine Nearshore and Riparian Habitats
Recognizing Coastal Geological Hazards
Using Native Vegetation to Reduce Erosion and Improve Fish and Wildlife Habitat
Who Should Attend?
Landowners interested in stable natural marine shorelines and in reducing the potential for erosion and landslides.
Facilitators:
June 8, 2019 –Dumas Bay, 9 AM-3PM
Dumas Bay Center
3200 Southwest Dash Point Road
Federal Way, WA 98023
July 13, 2019 – Vashon Island, 9AM-3PM
Vashon-Maury Island Land Trust
10014 Southwest Bank Road
Vashon, WA 98070
Aug 3, 2019 – Discovery Park, 9AM-3-PM
Discovery Park Environmental Learning Center
3801 Discovery Park Blvd
Seattle, WA 98199
More Information - http://kingcd.org/programs/better-water/where-the-water-begins/